My 1974 D-Mod X1/9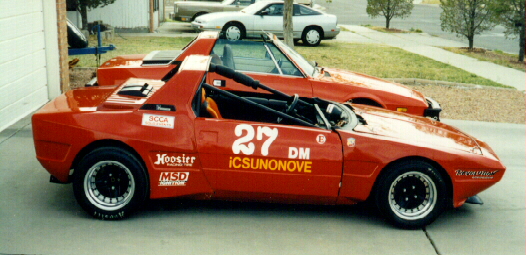 My X1/9 ownership history
In 1986 my friend Carl bought a orange Fiat X1/9 right here in Albuquerque, New Mexico USA. I didn't even know how to drive a car, but I had to try. This car just was so wonderful! I bought my first one in 1987 for $600.00. It was orange. I wrecked that so I bought a silver one. I also had a blue X1/9 while I owned the silver X1/9. I had a few small fender-benders in it. Finally my friend Scott decided to sell his lime green 1976 X1/9, so I sold my silver one and bought his.

As of now (2/17/00) I have 3 X1/9s. I have the '76 X1/9, a 87 X1/9, and a '74 X1/9. The '87 is blue with alloys. It is totally stock. Then I have #27 the '74 X1/9. This is a D-Modified SCCA Solo II car. The specs on this follow:

This car was built in 1990 (took 3 years to build)
built for autocrossing, but can be used for Production racing with an engine change.
this is the car that was featured in the "Fiat X1/9 Peformance Handbook". #27 was built by Ron Collins of El Paso, Texas, USA the author of that book.
complete cage, fiberglass body, front fuel cell, Earl's braided hoses, padded fiberglass racing seat, coilovers with Carrera shocks, adjustable custom camber plates, adjustable ride height, 1500 engine with stock 5-speed, PBS racing clutch with lightened flywheel. Heavily modified engine by PBS (low miles since rebuild), big valve head, ported and polished, PBS intake manifold with SK 45mm sidedraft carbs and velocity stacks that stick into rear trunk. PBS header, Flowmaster muffler. 140 hp with wide power band. Will rev to 9,000 (not recommended - done by mistake). that's a lot of revs for stock crank and rods. A tribute to Fiat quality.
Revolution wheels: 13x7 fronts, 13x8.5 rears
Many autocross wins in SCCA D Modified. Divisonal winner.
Painted bright red. Weight: 1520 lbs.

My 1976 X1/9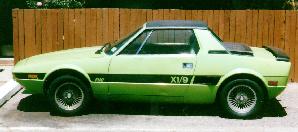 I had always wanted this car. Scott has searched for 3 years to find a X1/9 with stock lime green paint job. This car definitely draws attention. Before this X1/9, I had never driven a X1/9 that had problems with getting traction off the start. Usually when the weight is shifted backwards in a mid-engine car during a start, it is almost impossible to lose traction. This car with it's lightened flywheel and increased power allows you to do this. Actually now, with my wider rear tires (6.5" wide in the rear) , I cannot lose traction.
This summer (1997), Scott and I have been rebuilding my engine and setting up my car as a SCCS autocross car. We have added front and rear swaybars, added Koni struts, Jacob's Magnum ignition (good to 10,500 rpm), Dual 40mm Weber carbs, 42/82 camshaft, PBS big valve head, 5 speed transmission, etc...
My current project of lightening my car
Improvements to my car
1500 cc balanced engine with .06 over pistons
Jacob's high performance Magnum ignition
Flowed and ported head by PBS Engineering
40 mm. intake valves
High performance valve springs
13" BWA alloy wheels with 185/60 (front) 215/50 (rear) B.F. Goodrich R1 autocross tires
Lightened gears and flywheel
Aluminum crank pulley
5 speed transmission
1988 X1/9 wing on the back
Momo steering wheel
Dual Weber 40 mm. carburetors
High-compression suspension springs
42/82 camshaft
Front and rear swaybars
Adjustable Koni struts
Headers and chrome dual tip exhaust
This car moves like a bat out of hell!!!
---

Back to the X1/9 home page

Created: 1/14/96
Last Modified: 7/25/97

Author: Todd Hassan (email: hassan@irata.com) Brought to you by Hassan Consulting